Vars les Claux
Center station
At the foot of the majestic Eyssina face, which sets a truly postcard setting, Vars les Claux is the resort center.
From 1,800 meters to over 2,000 meters altitude in the heart of a larch forest that owes it its name of "Forêt Blanche", you'll find the village spirit here with all the services and entertainment of a major resort nearby.
.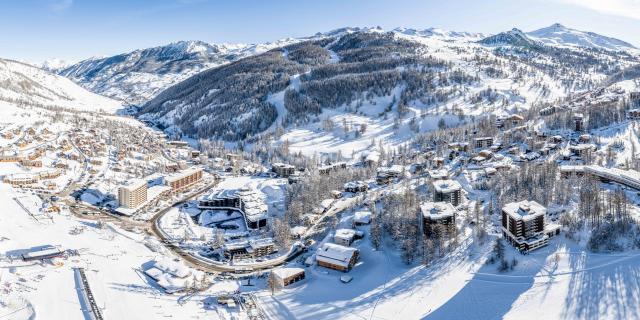 A lively atmosphere
Vars les Claux is the bustling heart of the ski resort: several ski departure points dot the village, which stretches along the D902 towards the Col de Vars. Perfectly integrated into its larch forest, the resort offers a whole range of activities and entertainment, as well as human-sized shopping arcades for the pleasures of shopping.
All the shops are represented here: restaurants, sports stores, food stores, and boutiques to satisfy all your desires.
.



Residences, chalets, hotels and apartments offer a wide range of accommodation to suit all budgets.
The different snow fronts ensure a good distribution of skier flows, but also of pedestrians wishing to take advantage of the departure points for hiking trails, with or without snowshoes, notably up to the Col de Vars. In the heart of the resort, you'll also find the brand-new Caribou 4-season sled for a dose of thrills!
A free shuttle service is provided by the commune of Vars to enable you to get around in and between the villages. This regular shuttle service gives you easy access to the villages and minimizes the use of your vehicle during your stay.
If your accommodation does not have a private parking lot, we advise you to park your vehicle in one of the parking lots available in Vars les Claux and take the free shuttle service.
Our information point and holiday advisors welcome you to Les Claux all winter long.
Always more
Village spirit
We also love it for this: Vars has all the assets of a major resort combined with the charms of mountain villages. Discover what makes our region so charming.